Blog
---
09.13.22
Alcatraz AI Receives $25M Series A Funding to Accelerate International Growth
Today we're proud to announce that Alcatraz AI raised $25M in Series A funding. The round was led by Almaz Capital, with participation from EBRD, Silverline, Endeavor Catalyst and Golden Seeds. We're also thrilled to have our prior investors - Ray Stata, JCI Ventures, LDV Partners and various other angel investors - returning to participate in the round. I am also incredibly thankful to the Alcatraz AI team and to our early adopters. Thank you for your support and belief in our mission to revolutionize the access control experience using the unique power of the human face.
During just the last two years at Alcatraz AI, our team has had the opportunity to speak to hundreds of Fortune 2000 security leaders. Through these experiences, one thing has become increasingly clear: the complex needs of access control systems in the built environment are ready for transformation. The COVID-19 pandemic significantly increased demand for touchless, frictionless access control solutions that can accommodate high-traffic or disparate locations, including office buildings, public spaces, and professional sports stadiums. 
Built and designed in the United States, the Alcatraz Rock is the first AI-driven facial authentication access solution, powering truly autonomous access that is private and impenetrable. To date, Alcatraz AI has raised nearly $50 million to support the continued development and expansion of its popular autonomous access control system. With this additional capital, we have the resources to accelerate Alcatraz' growth and continue building out a world-class team. 
Our journey so far: Protecting millions of employees in the built environment
Founded in 2016, Alcatraz AI is deployed at some of the most successful companies in the world, and its features are well received by a global audience:

– 1M employees secured with the Alcatraz Rock, including 25 Fortune 500 companies
– 10+ countries where Alcatraz AI has solutions deployed
– 350+ integrators and partners in our global channel
– 20+ awards Alcatraz AI has received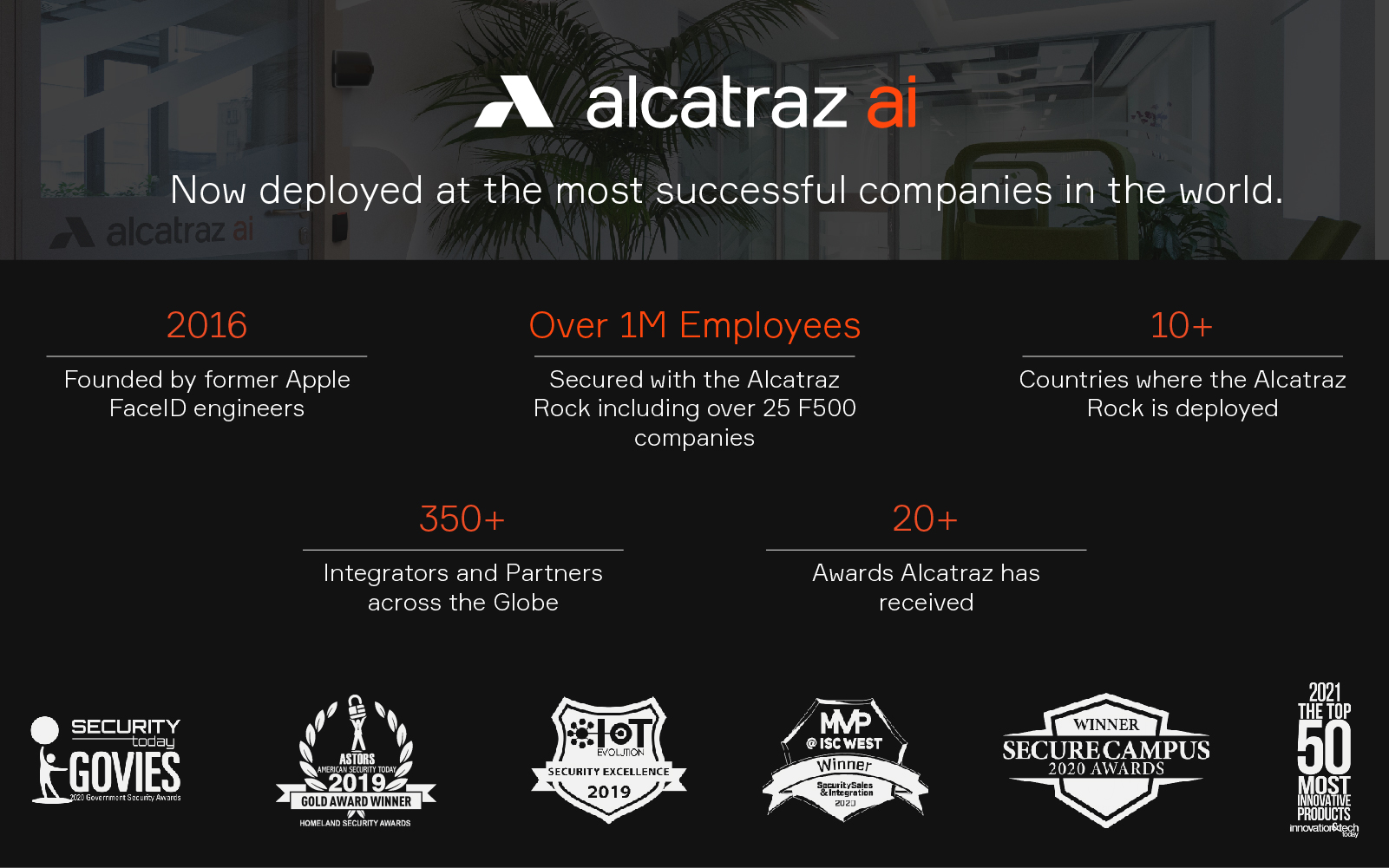 The main drivers of this increased demand, are five compelling events and macro trends:

1. Construction/Tenant Improvements – A customer is renovating a facility or building a new facility. For instance, data centers through the pandemic are expanding to accommodate for all the work from home traffic - additions to existing data centers and also new data centers coming out of the ground.
2. Compliance driven/code requirements – Required biometric adoption through regulation - such as cybersecurity laws, 2FA or 3FA for high security locations such as data centers, IDF rooms, and highly secure areas, such as entry points that secure the electric grid. 
3. Back to work/pandemic initiatives – As companies bring employees back to the office, enhanced COVID / health safety protocols make touchless environments an imperative. Building owners and managers want to attract employees back to the office to some extent and creating a safe environment facilitates it.
4. Increasing breaches – Both physical and cyber security breaches are on the rise, and the average breach is $4M. Also other security incidents, such as workplace violence and theft keep security leaders up at night. A slightly more unoccupied building creates more opportunity for bad actors. So, security teams are tightening security, hardening their physical security layer, and solving for the increasing risk. 
5. Multi-factor authentication as a rule – You can't log into important software applications now, like your financial institution, without a 2nd form of authentication. The same trend is occurring in the physical world. Only you can't send an email to verify someone's identity standing at a door. So, instead, we enable a badge plus facial verification as the 2nd layer of authentication. Also, to create a holistic zero trust environment, you have to take the physical access points into consideration.
6. Growing industry trends, demand for AI – The Security Industry Association released its 2022 Top Security Trends. It was no surprise that the #1 trend is AI: automating security tasks, doing more with less, reducing the need for human intervention (thereby reducing costs associated with FTEs).
We're pleased to share that, driven by this incredible adoption, Alcatraz AI is now reaching over 1M employees protected!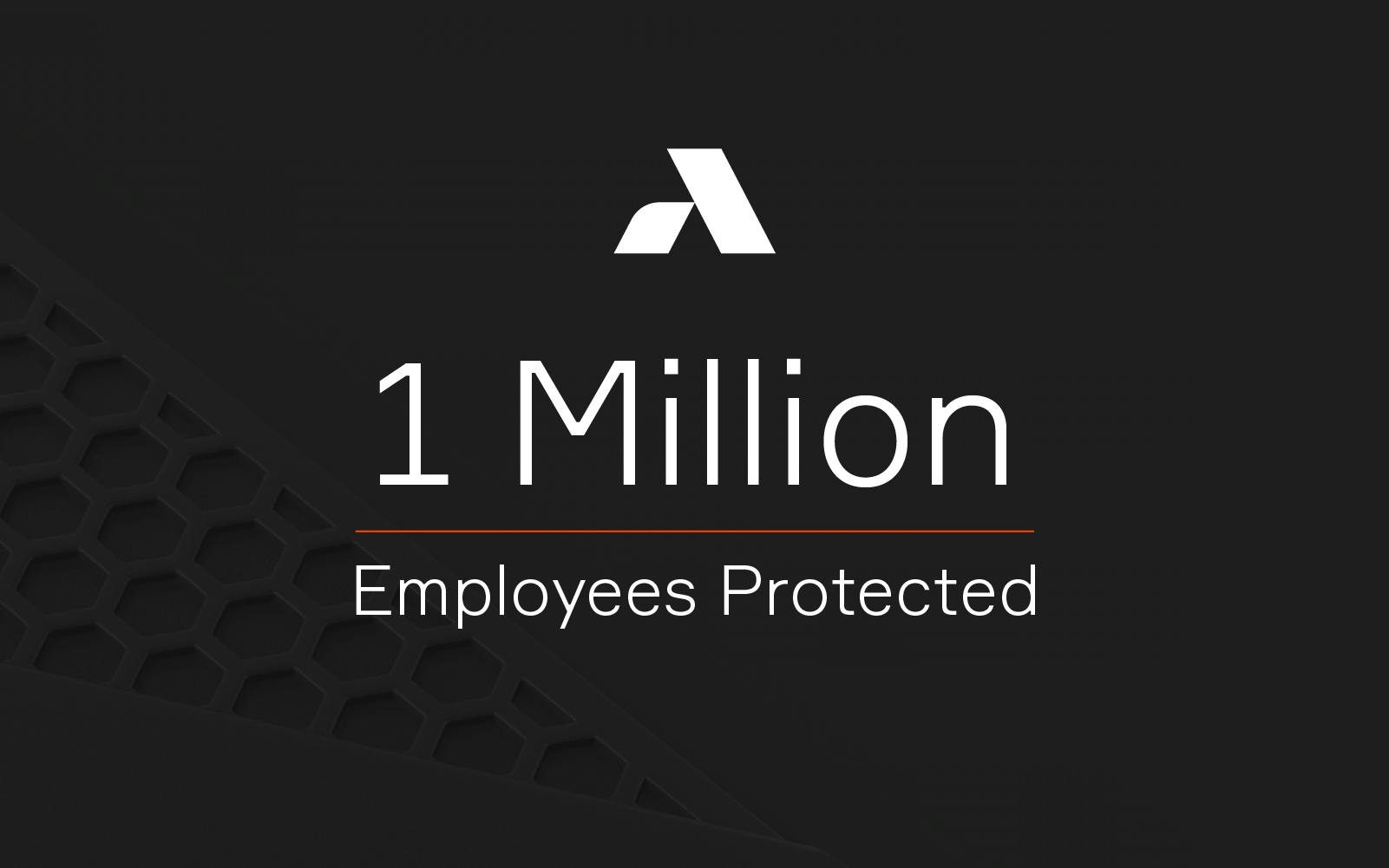 Propelled by enterprise-readiness, end-to-end flexibility and compatibility, Alcatraz continues to revolutionize the way leading organizations across the security industry are looking at controlling access into spaces they need to secure.

Internal theft, breaches, and other security issues can significantly impact a company. It is estimated to cost US businesses up to $50 billion each year. Our goal is to provide security teams with the access control technology needed to succeed and excel in the modern world. As such, we're excited to help companies scale using our flagship product the Rock. Our technology leverages AI to be the first line of defense in buildings by verifying a person's identity using facial authentication making buildings both easier to navigate and harder to break into. It has been described as having a virtual security guard at every door.
We don't do biometrics in a traditional way. We have innovative, patented technology that is next generation. Many biometrics have failed to scale into the mainstream due to friction at the point of entry, challenges with integration, the burden of enrolling users, and the accuracy of authentication. In addition, facial biometrics have often created privacy concerns. Alcatraz has flipped the problem - turning all these into strengths, and we have three main differentiators that should remove any privacy concerns. 
First - we don't collect or store any personal identifiable information (known as PII). The user remains anonymous to us. All we pass through to authenticate you is a numerical value that is bound to a 3D image that is taken of your face. Not even the image of your actual face, but a digital hash in the form of a badge number.
Second, our data is fully encrypted, using the highest enterprise grade security, AES-256 encryption, and is penetration tested by 3rd parties and certified by all the necessary governing entities.
Lastly, we don't take information without anyone's knowledge. A user is opted in, and when you walk up to the device, you understand you are authenticating. It's not a surveillance device that is capturing your image in a public setting unbeknownst to you. It's a deliberate authentication. And it actually serves to protect you, much like multi-factor authentication protects you from cyber identity theft. The Rock serves to verify your identity for physical access control, so no one can impersonate you. 
We are advancing and accelerating the security teams of today, so their companies have the safety and protection that they need to accomplish their missions tomorrow.
We believe that your face should be your credential, and that facial authentication will become the de facto standard for entering important environments - that eventually Alcatraz Rocks will be ubiquitous for entry into the places where you work, live, play and study. 

Introducing a New Era of Access Control
At Alcatraz AI, we believe that safety and security is a first principle, and we are committed to leading a new era of access control by leveraging the unique power of the human face to make accessing spaces as quick and easy as unlocking your phone. Our product fills the gap in the market needing impenetrable security with touchless access control solutions to secure spaces. We are thrilled to enter the next phase of our company's growth with the help of our investors.
Alcatraz AI, aims to accelerate the global adoption of facial authentication as a central security feature and will use this funding to scale quickly and advance critical organizational priorities, including:  
1. Expanding our product road map with additional software features and analytics, as well as introducing new hardware applications
2. Accelerating our global expansion   
3. Growing our team
Imagine a world where you don't have to carry any keys or keycards anymore. Your unique face unlocks everything. No friction for the user or for the system administrator. The way we accomplish that is through the new category that we are creating of autonomous access control.
Follow us into the future as we transform the access control experience!  Visit www.alcatraz.ai for more information and follow the company's updates on LinkedIn.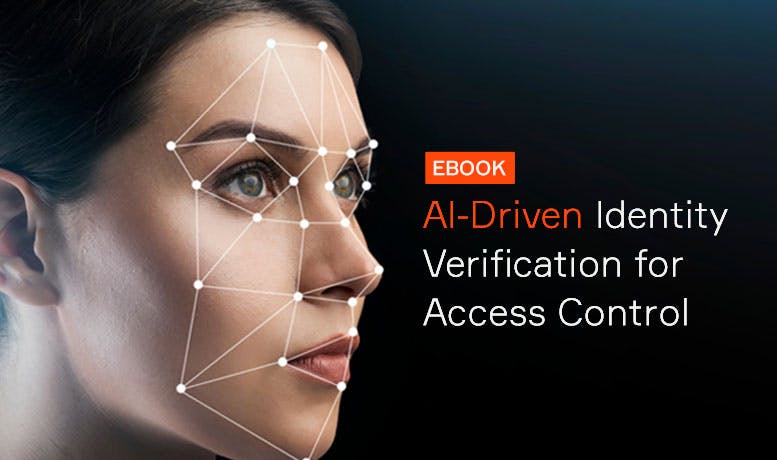 Free Ebook
Download this Ebook to learn about secure AI-Driven Identity Verification for Access Control
What is AI-driven identity verification?
How does AI-driven identity verification relate to physical access control and elevate security?
Facial Authentication vs. Facial Recognition
Applications of identity verification in specific verticals
Download Now

→