Resources | Case Studies
Keyless Door Entry for Stadiums and Arenas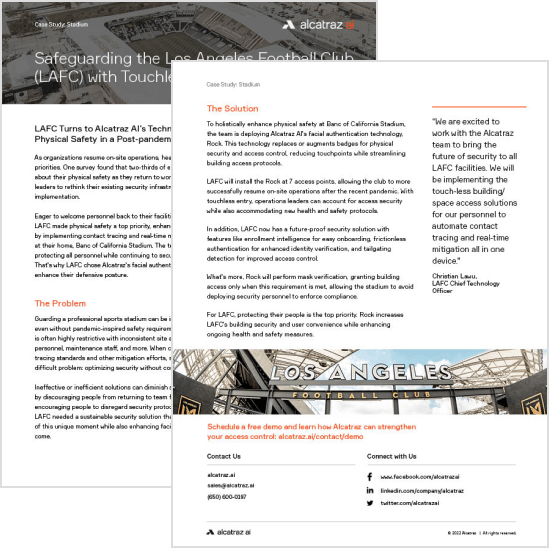 LAFC Turns to Alcatraz AI's Keyless Door Entry Technology to Enhance Physical Safety in a Post-Pandemic Landscape
Download this case study to discover how facial authentication is safeguarding the Los Angeles Football Club (LAFC) with touchless access:
The Client: Los Angeles Football Club (LAFC)
The Challenge: Protecting facility perimeters of stadium's high secure spaces with touchless authentication
The Solution: Facial biometric authentication using Alcatraz Rock
Keep stadiums and arenas secure with AI-powered access control. Our facial authentication technology offers employees, fans, and players keyless door entry to sports venues. 
We are able to make physical security and access control within stadiums a quicker, more seamless process. By establishing user profiles developed from a handful of interactions, the Rock is able to create a safer, and frictionless environment. Our keyless door entry solution is easy to use and implement - with no additional integration needed for simple deployment on any biometric technology control access system. 
It is a daily challenge for Stadiums to ensure proper identity verification and access to authorized personnel into practice facilities, VIP areas, or other restricted areas. Current access control solutions can still run the risk of tailgating, theft of data and assets, compliance and credential management. 
The Alcatraz Rock keyless door entry system is a frictionless platform that is easy to implement and scale. Our technology is powered by machine learning at the door and ensures real-time, multi-factor authentication for enhanced privacy and security. 
The benefits of a keyless door entry access control system are quickly realized. The Rock provides faster and more secure employee and player verification, detects and prevents tailgating, reduces security infrastructure, decreases health risks with touchless biometric technology control access, and is best-in-class to avoid security breaches and minimize risk. 
Download this case study to discover how facial authentication safeguards the Los Angeles Football Club (LAFC) with touchless keyless door entry access. 
To learn more about how the Alcatraz Rock can help your stadium or arena, contact us here.