Tina D'Agostin was highlighted in the new annual program showcasing 100 women that are role models, leaders, innovators, and influencers in the global security industry.
SILVER SPRING, Md. April 14, 2022 – The Security Industry Association (SIA) has named Tina D'Agostin, CEO of Alcatraz, to the inaugural honoree list for the SIA Women in Security Forum Power 100. New in 2022, this initiative presented by the SIA Women in Security Forum honors 100 women in the security industry each year who are role models for actively advancing diversity, equity, inclusion, innovation, and leadership in the community.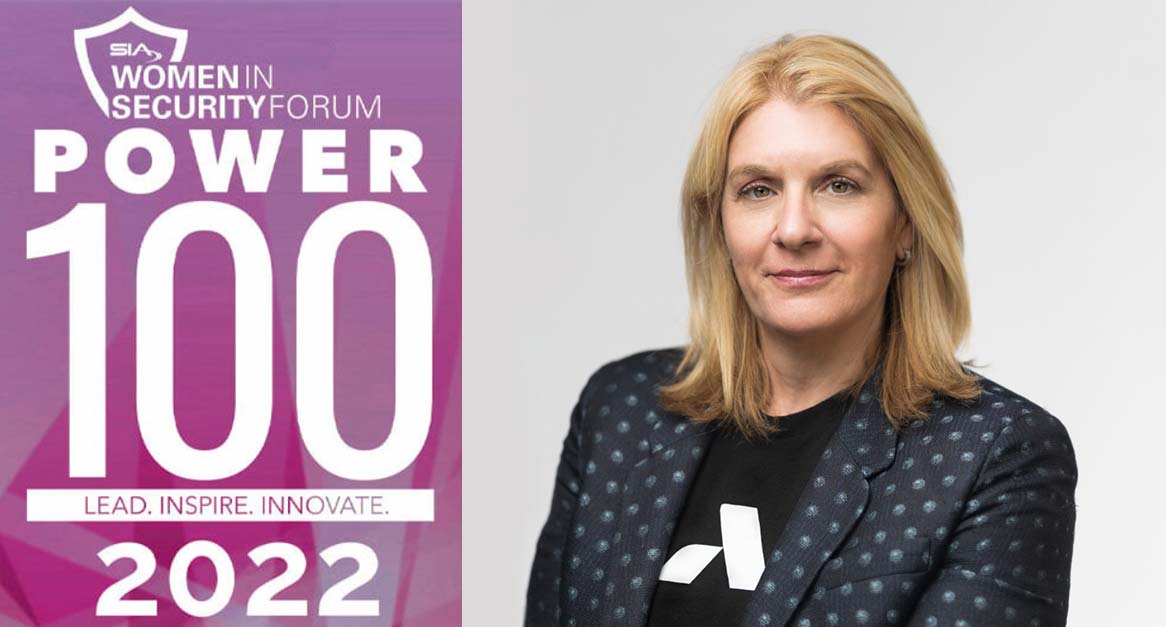 Tina D'Agostin is the CEO of Alcatraz AI, an artificial intelligence company that employs facial authentication technology to create autonomous access control solutions for enterprises. D'Agostin previously served as the Chief Revenue Officer for Alcatraz AI, responsible for driving top-line growth and expanding Alcatraz's footprint globally. As CEO, she plans to take Alcatraz AI into its next chapter to modernize the access control industry. Tina brings over 25 years of experience within the security technology and solutions industry, with leadership experience building high-performing organizations in hardware, IT, and smart technologies.
Before Alcatraz AI, D'Agostin was the General Manager of Building Technology & Solutions at Johnson Controls, focused on delivering smart building technologies to global companies. Tina currently serves on the board at the Bay Area Council and is a contributing member of the Forbes Technology Council.
"The SIA Women in Security Forum is thrilled to recognize Tina D'Agostin as one of the women of the 2022 Power 100 – an accomplished, impactful group who are modeling leadership, inspiring others, and shaping and transforming the security industry," said SIA Women in Security Forum Chair Kasia Hanson. "We applaud Tina D'Agostin and the rest of the 2022 honorees for their meaningful contributions to the industry and the larger community and look forward to celebrating their achievements at ISC West."
"My goal at Alcatraz AI is always to secure spaces and create cutting-edge security solutions," said Tina D'Agostin, CEO of Alcatraz AI. "I am deeply honored that my mission and work were recognized as part of the 2022 Power 100 among so many inspirational women. I am also thankful to SIA for making sure that female leaders and entrepreneurs in the field are acknowledged and celebrated." 
The Power 100 announcement comes on March 8, International Women's Day, a global day celebrating the social, economic, cultural and political achievements of women and presenting a call to action for accelerating women's equality. SIA supports International Women's Day and launched the SIA Women in Security Forum on this day in 2018. This year, SIA will celebrate International Women's Day and its 2022 theme by encouraging the Power 100 honorees, the Women in Security Forum community and the larger security industry to work to forge women's equality and #BreakTheBias.
"The SIA Women in Security Forum Power 100 list inspires the global security industry. The inaugural class of Power 100 honorees are true leaders and trailblazers in the security industry and are making a difference in diversity, equity and inclusion," said SIA CEO Don Erickson. "On International Women's Day, we thank these inspiring women for their outstanding achievements and the actions they take every day for equality without any expectation of recognition."
SIA's Women in Security Forum works to engage all security professionals to promote, recruit and cultivate women's leadership for a more inclusive and diversified industry. In addition to the Power 100, the SIA Women in Security Forum offers several programs and activities, including the SIA Progress Award, which celebrates individuals who advance opportunities for women in the security industry; the SIA Women in Security Forum Scholarship, which furthers educational opportunities and advancement for a diverse security workforce; special keynote breakfast events at ISC West and East; volunteer efforts that give back to the community; a virtual education series; collaborative projects with other organizations seeking to empower women in security and technology; sponsorship of the Women in Biometrics Awards; thought leadership and speaking opportunities; and engaging networking and professional growth events. Participation in the SIA Women in Security Forum is open to all employees of SIA member companies and SIA student members; learn more and get involved.
About SIA
SIA is the leading trade association for global security solution providers, with over 1,200 innovative member companies representing thousands of security leaders and experts who shape the future of the security industry. SIA protects and advances its members' interests by advocating pro-industry policies and legislation at the federal and state levels, creating open industry standards that enable integration, advancing industry professionalism through education and training, opening global market opportunities and collaborating with other like-minded organizations. As the premier sponsor of ISC Events expos and conferences, SIA ensures its members have access to top-level buyers and influencers, as well as unparalleled learning and network opportunities. SIA also enhances the position of its members in the security marketplace through SIA GovSummit, which brings together private industry with government decision makers, and Securing New Ground, the security industry's top executive conference for peer-to-peer networking.
About Alcatraz AI
Alcatraz AI transforms access control by leveraging artificial intelligence and analytics to make powerful decisions at the edge, where your face becomes your credential. Alcatraz's facial authentication technology and intelligent tailgating detection enable enterprises to innovate and future-proof their security strategy. Our state-of-the-art product, the Rock, is designed to be easy to deploy on any access control system, providing an enterprise-grade security solution to protect businesses, people and assets. Visit www.alcatraz.ai for more information and follow the company's updates on LinkedIn.  
Press Inquiries:
Sara Lambley
JMG Public Relations
212-206-1645
sara@jmgpr.com