Showcasing Touchless and Multi-factor authentication, Tailgating Detection, and Alcatraz AI's Newest Platform: V2
Redwood City, CA., February 17, 2022 – Alcatraz AI, a leader in physical security technologies, announced today they will be showcasing their state-of-the-art, autonomous access control system, the Rock, at ISC West 2022 (Booth 21124). Alcatraz AI provides organizations with autonomous access control through AI-powered facial authentication that works in real-time, making spaces safer. The security conference will be taking place at the Venetian Expo in Las Vegas, Nevada on March 23-25, 2022.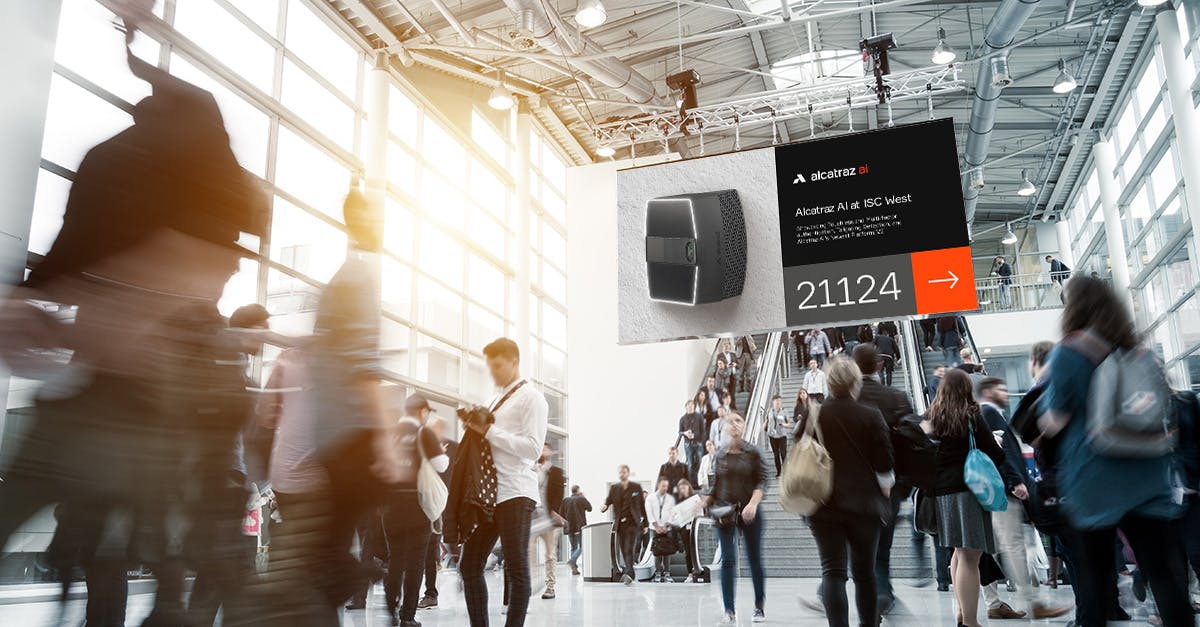 International Security Conference & Exposition – also known as ISC West – is the leading comprehensive & converged security trade event in the U.S. The company will be showcasing its cutting-edge access control solution, the Rock, that transforms the way you enter secured spaces using your face as your credential. With features like touchless identity verification, multi-factor authentication, and tailgating detection, the Rock provides modern enterprise-grade security solutions to protect businesses, people, and assets. 
Alcatraz AI will be showcasing its updated Administration and Management Platform at ISC West. Version 2 of the Alcatraz Platform provides simplified installation and upgrades on customer-provided infrastructure. New troubleshooting tools improve the user experience in all aspects of installing and upgrading the Rock. Although the Alcatraz Platform and the Rock are Access Control System agnostic and do not require software integration, the new platform provides the necessary interface for deep software integrations and enables enterprise features such as Single Sign On (SSO) with support for OAuth2 and SAML. In addition to the new user-facing features, the Alcatraz Platform now includes a REST-based API to provide customers flexibility if they require tighter integration between Alcatraz AI and 3rd party systems. 
The Rock has the unique ability to effectively mitigate tailgating by detecting breaches in real-time, then providing users and administrators data that can drive behavior modification. The solution can be configured to send an alert to the access control system (ACS) when an unauthorized user follows an authenticated user through a door. Alcatraz AI's technology is ONVIF conformant, allowing Alcatraz AI to bridge the gap between access control and video management with a single device. As the Rock conforms to ONVIF standards, Alcatraz AI gives partners and end-users confidence that the Alcatraz Rock will work seamlessly with any existing Video Management System (VMS) platform. 
"At Alcatraz AI, we are creating a new category of autonomous access control for accessing secured spaces. A self-driving access experience incorporating artificial intelligence, data analytics, and the individuality of the human face for precise identity verification at every door," said Tina D'Agostin, CEO of Alcatraz AI. "We are excited to showcase our autonomous access control solutions at ISC West."
The Rock will also be displayed at Alcatraz AI's partner booth, Boon Edam (Booth #8037). To learn more about Alcatraz AI (Booth #21124) and register for a complimentary exhibition pass, please visit: https://www.alcatraz.ai/resources/alcatraz-ai-isc-west-2022 
About Alcatraz AI:
Alcatraz AI transforms access control by leveraging artificial intelligence and analytics to make powerful decisions at the edge, where your face becomes your credential. Alcatraz's facial authentication technology and intelligent tailgating detection enable enterprises to innovate and future-proof their security strategy. Our state-of-the-art product, the Rock, is designed to be easy to deploy on any access control system, providing an enterprise-grade security solution to protect businesses, people and assets. Visit www.alcatraz.ai for more information and follow the company's updates on LinkedIn.